Blanski Inc.
120 Madison Avenue,
Reading, Pa. 19601

Toll-Free: 1-800-828-6976
Tel: 610-373-3701
Fax: 610-373-3722
Email:
rentals@blanski.com


Blanski Inc., now doing business as 3B Services, Inc., proudly presents trailer mounted, mobile boiler systems. These mobile boiler houses are available for immediate rental in any emergency for a full range of long and short-term industrial, commercial and institutional steam and hot water applications.

Mobile boiler systems consist of a completely enclosed and weatherproof trailer which houses the boiler, feed water tank and pump, oil tank, water softener, chemical feed system, water softener and all associated electrical controls. The boiler stack carried on board is adapted for rapid installation once the boiler arrives at the site. The heavy-duty trailer on which the system is mounted is capable of being quickly dispatched at a moments notice.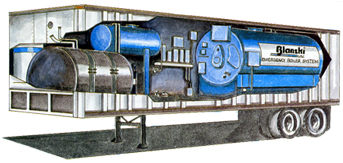 Specializing in Emergency Boiler Rentals
Dual Fuel / Fuel Storage Capabilities
Dual Voltage / Flexible Power Cables
Feed Water System on Board
Stub Stack on Board
Water Softeners on Board
Chemical Treatment on Board
Alarm System on Board
Completely Piped, Wired & Fused
Blowdown Separator Tank
Steam to Hot Water Heat Exchangers